ACE OLIVER CLAY
3rd Trimester
As I ventured into my last trimester I was full of energy yet exhausted from all the travelling and projects I had been involved in.  I was teaching 3 hot yoga classes a week and Kundalini yoga which was totally awesome.  I felt in the right place when I was teaching.
We had our gong bath weekend where I was running one of the workshops, we had guests staying and I was busy going out with friends for annual Christmas gatherings……. all in one weekend!  This marked me slowing down.  I was so exhausted from this and I knew I had to cut everything back. With 8 weeks till the due date I needed to help all the new ashram teachers settle in and feel comfortable.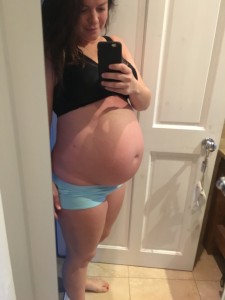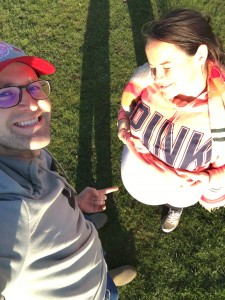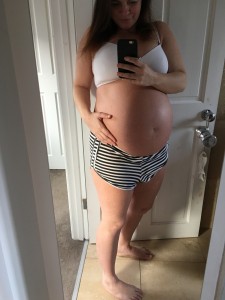 My hips were in so much pain, some days yoga asana helped other days it made it worse.  I found chanting was my way of emotionally releasing everything… it brought tears to my eyes and I felt so relaxed after.
As the due date came and went I stopped teaching yoga and spent my days doing work on our teacher training and nesting in our home.
No Ace yet….
At 41 weeks we went for a sweep with the midwife and that started to kick things into action.  However not enough to set the birth off.  We did another 2 sweeps that week and over the weekend Saul and I became restless and quite taught on energy.  If you have a pregnant friend the worse thing to ask them is "has your baby not arrived yet"  day after day I would get kind messages off people asking where he was but being 42 weeks pregnant your patience is running on empty your body is taking the toll and emotions are on the hype!  I would totally recommend you just ask a simple how are you?  My negative side came out over that last week.  Saul took me out for good walks, shopping trips and food.  We stocked up on a massive M&S food shop as we had planned a home birth we needed plenty of food to keep us snuggled inside for the birth and his arrival.
Time to be INDUCED (NOOOOOOO)
The 42 week mark came 14th February.  We had an appointment with the hospital to induce Ace.  They sent us home that night because they didn't have the space or the staff.  I was so happy to go home and sleep one last night in my bed.  I woke up early from a nightmare of washed up dead babies on a beach!
OMG  That morning we left my mum at our house to look after the dogs and ventured into hospital for the craziest time of our lives.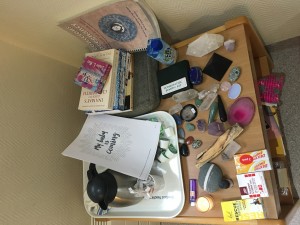 At 10am we were shown our room and I set out all my crystals, candles, affirmations and books.  A nurse came in to tell us off for lighting the candles (naughty).  Saul and I ate snacks and watched shameless on his laptop.  At 12pm our midwife came to start everything off……
Waters Broken & Hormone Drip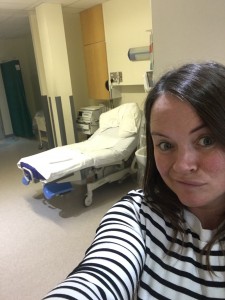 She told me  that I should take the epidural.  I went into internal shock…. coming into hospital and being interred with was one thing….  but having an epidural was another!  She said it's going to be a lot more painful than a natural birth.  I was so stubborn and turned to Saul " Whatever Saul I am not having an Epidural – don't let me have one."
She broke my waters and hooked me up to a hormone drip.  By 4pm I was in so much pain… the contractions were ridiculous and relentless.  By 11pm even with all my yoga breathing it was just too much.
Epidural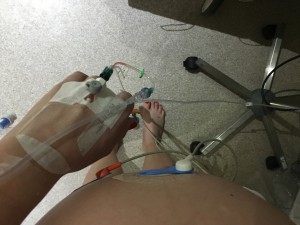 During all the crazy contractions a new midwife started her shift and came to look after us.  She checked me and I was 4 cm dilated.  They wanted me to do another 4 hours of contracting and we would check again.  I was exhausted and hadn't eaten since 12pm.  I turned to Saul and said I can't do this for 4 more hours.  Generally in natural birth contractions gently work up to where I was at and probably you might have given birth by now… I was in for another 4 hours with no knowing if that would be enough.
Anyway the anaesthetist came and took all my pain away… I spent the next 7 hours feeling so relaxed knowing Ace was on his way and I didn't have to do anything for the moment.  I slept in and out for hours.  Saul made a bed on the floor.  4 hours came and our midwife was worried about Ace's heartbeat which slowed everything right down!  They had to start doing tests on him so turned the hormone drip OFF.  I measured with a temperature and had to be shot with antibiotics.  The doctors faffed around in and out all through the early morning hours.  By 5am they turned the drip back on and at 7.30 we swapped midwives.
Time to Push
My new midwives checked me out and at 9am said I could start to push our little babe out.  GOD i was so chilled and happy he was going to be here in the next hour.  half an hour later they said his head wouldn't turn and fetched a doctor.  The doctor said we are going to theatre.
C – Section
I went into a real mood! Deep down I was preparing myself for the worst….. I know its a completely different scenario but we had already lost one baby and that ruined me.  I count bare this.
Saul was by my side.  The midwives and the docs busied around us.  They juiced me up with so many drugs, gave me a hospital nightie and scrubs for Saul.  My midwifes came with us as I was whisked off down the hallway into a bright bright clean room full of people bouncing around me.  My anaesthetist had a real thick manchester accent and kept banging drugs into me throughout.
Ace Ace Ace Ace Ace Ace Ace Ace
I held Sauls hand i didn't dare look anywhere but deep into his eyes.  I invited my guides and any angels into the room to help us.  Ace wouldn't come out with forceps so they went into the surgery.  I felt them pulling him out … his head was stuck in the there for a mo.  Saul said he will be here any second… my eyes streaming with tears thinking this could go either way.  We heard ACE cry! And we both had tears flowing out of our eyes.  They held him up for us to see and omg I was so so so in love.  How tiny he was …. could he look any cuter.  I couldn't believe he was mine! jesus!
I just wanted him on my chest NOW skin to skin but they whisked him off in a trolley for a check up…. it felt like ages but they brought him back and we got skin time whilst they stitched me back together.
Next Saul and Ace went off to get him checked out a bit more and I got taken to a recovery ward.  Ace came back and snuggled on my chest for ages.  I was dying to get the breastfeeding going so we tried that and I couldn't stop looking at him and stroking his soft tiny body!!!
Recovery
We got taken up to a ward where I was to recover for a few days….
I was sweating so much and could not feel my legs for hours.  I missed my midwifes as the ward nurses came round I felt stressed out!! After a while a lovely nurse came to see me and I asked if there was a bed next to the window I could move to and she came back and said I have got you your own bedroom.  This was just amazing! I cannot imagine having to spend 2 nights on a ward in so much pain… trying to get to the toilet with a new crying baby.  My room was spacious with an en suite and nice enough view and lots of light.  They gave saul a bed too so he could stay the night.  I was hooked up to a drip for a few hours at a time which made breast feeding and snuggling Ace impossible.  I was in so much pain from the surgery I couldn't get up from bed.  I had to use my arms to pull myself up….. C R A Z Y.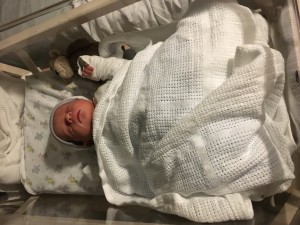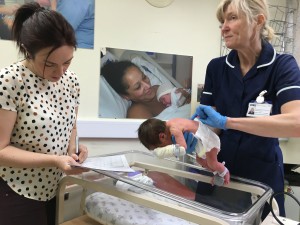 I had a cutie.   I was so happy.
The next morning Saul went home to walk the dogs and refresh.  I stayed in bed trying to get Ace latched on OMG that was so hard and so many doctors, nurses, midwifes coming in and out helping or annoying us. I just wanted to go home and be in peace.  Ace had bloods taken from him and injections of antibiotics every few hours … all sorts of things bless him little man.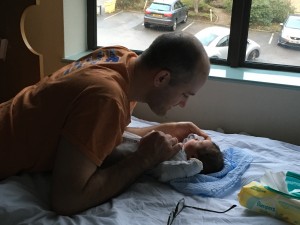 I called Saul and asked him to come back and help us!
He sat and read the breast feeding manual and we figured it out the three of us.
YAY!!
My family came to visit and that night Saul went home to get a good night sleep.  Ace and I had a good night of feeds and the next morning I packed everything up ready to go home!  By 5pm they released us and we drove home.
Home Time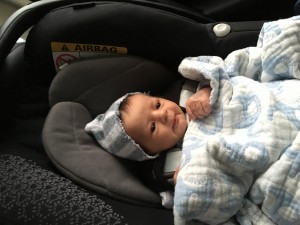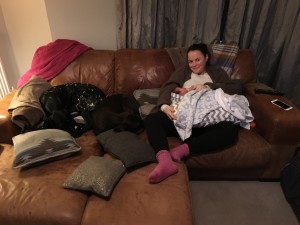 WhenI got home my mum had made the house clean, cozy and filled it with flowers.  She cooked us a yummy dinner afterwards I cried and went up to bed with ACE.  I was in so much pain.
For the first week I cried SO MUCH.  It was all just so much to take in.
No home birth, no water birth. Shit loads of drugs and artificial hormones.  Battered and bruised.  Ace was here he was alive.  Ace was healthy.  They had to cut him out.  Breastfeeding was hard and now my life of no sleep made everything a whole new level of bizarre.  All I knew was I had such a solid kind husband, two gorgeous dogs and a healthy babe… in this I trusted that everything was going to get easier and better.  The support from midwives, health visitors and breast feeding people was incredible……….. I could have done with that support after my abortion in 2015.  You get nothing after an abortion.  After the birth of Ace we have had someone round to the house or on the phone everyday!  I am so grateful.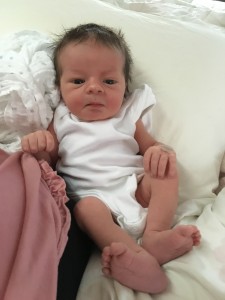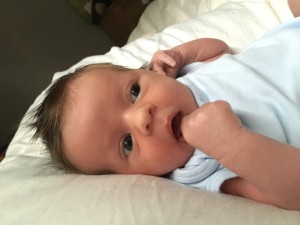 Ace is an easy baby (am I testing fate writing this hah)… he loves feeding! The big feeds help as when he has fed well he sleeps well.  He loves to snuggle but will happily go down if he is relaxed and calm.
Now I am keen to get active again and drop the 3 stones iv put on.  To start with I am slowly changing my diet and walking.  Slowing coming back to yoga and hot yoga…. how i miss you!
MIDWIVES ROCK! I LOVE ACE. Thank you Thank You Thank You x x x
Recommendations
Here I have made a list of recommendations :
Books
Gentle Birth
Spiritual midwifery
Ina May Guide to child birth
Buddha baby
Bountiful, Beautiful, Blissful
Sheffield Pregnancy Thearpy 
Throughout my 3rd trimester I had lots of Craino Sacral Therapy and Pregnancy Massage.  The day before I went into hospital I had an amazing acupuncture session with Jo Moon.
Louise Whitehead pregnancy yoga at the ASHRAM
My Hospital bag
Crystals
Homeopathic Birth Kit
Calcium & Magnesium tablets
Healthy snack bars
Energy tablets
Baby Stuff
Sleepy head
Chico Next to me crib
Breast feeding pillow
We went for a bugaboo pram as they resale so well (i don't like waste)
Also we went for a maxi cosy pebble car seat and isofix.  Prams and car seat shopping was a nightmare.  John Lewis do a price match and deliver to your home – AWESOME!
We didn't buy that much stuff. Blankets and Muslins are great buys and looking back we should have bought some smaller baby vests and grows as everything was soon big on him haha.